2005 J/100 - $99,000 -
Brilliantly outfitted and maintained this J/100 is as ready to hit the race course as she is to
drop the lines for an evening daysail. The J/100 combines the ease of sailing and maneuvering
a small boat with a waterline length giving it the speed and comfort of a much larger vessel.
1980 Pearson Flyer 30 - $17,900 -
Flush deck, fractional sloop Pearson flyer 30. An uncluttered deck that works well for a race crew with a spacious interior that easily doubles as a weekend cruiser, bunk space for 4 and a centerline head. Powered by a low-hour Westerbeke diesel the boat is simple to single or double hand. Includes NEW: suit of sails,
VC17M bottom, forestay, Harken carbo foil, tiller cover, boom cover, main sheet, genoa sheet, custom curved tiller and tiller extension.
2013 J/70 #80 - $34,900 - Hull #80 of J Boats popular ramp or hoist, launch-able daysailor. One design or phrf racing boat. #80 has lived on her trailer at her owners house and has been lightly and locally used. Lying Seattle, WA.
2012 J/70 #17 - $34,900 -

Hull #17 of J Boats popular ramp or hoist launch-able daysailor and one design or phrf racing boat. #17 has lived on her trailer at Shilshole Marina and has been extremely lightly used as a daysailor when her out of town owner visits family in Seattle.
2017 J/70 #1110 - $52,990 - All sails included sitting in Seattle ready to sail! Hull #1110 comes complete with everything you need to go sailing. Main, Jib, Spinnaker never used, Boat has been dry demo sailed a handfull of times. Also included is a galvanized trailer, all needed extra gear and the outboard motor – a Honda 2.3hp outboard.
2007 MacGregor 26M
- $22,500 -
2007 MacGregor 26M sailboat... water ballasted and powered by Suzuki 70hp 4s outboard. Includes 2 12v batteries, full cockpit cover, lots of room in the cabin area, porta-potty, sink, propane cooktop, safety equipment, single axle trailer, jib with furler and mainsail, sony stereo and Garmin GPSMap 178.
Sister Ship
2011 Laser Performance Vago - $7,900 -
A modern look with performance you'd expect.
The Vago offers a single-line launch and retrieval system for the gennaker as well as interchangeable sails that don't require extra rigging. It's high boom, GNAV vang, and cockpit design support both hiking and trapeze options.
The robust Polyethylene Tri-skin hull keeps maintenance to a minimum. More importantly, its innovative hull features a sub-chine area designed to promote controlled planeing, ensuring every ride is a
blast
!
Sister Ship
Sister Ship


Vanguard 15 - $2,900 - A popular one design racing dinghy, this used boat is in excellent condition and includes a dolly.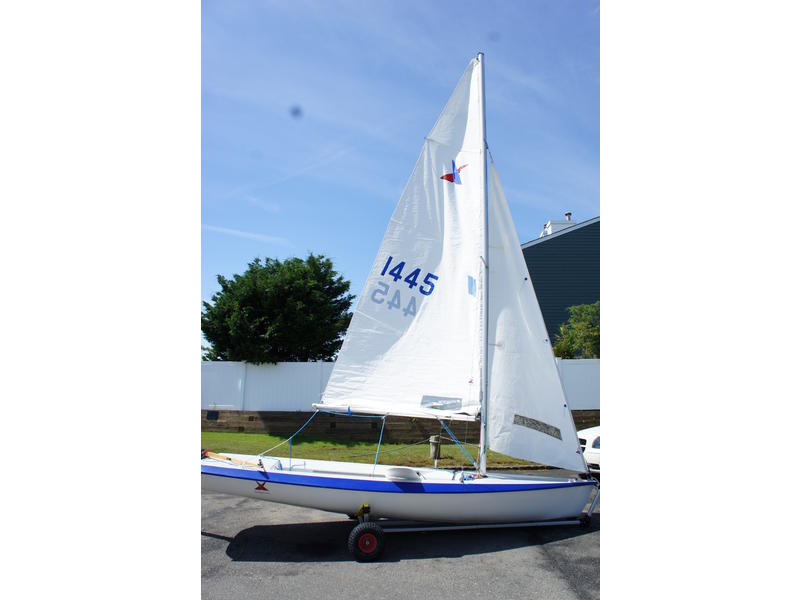 Sister Ship
1973 Chrysler Mutineer - $1,999 - A 15 foot double-handed boat that includes newer sails, roller furling jib and a trailer.
1988 Coronado 15
- $3,500 - The C-15 is a one-design class of sailing dinghy. They can be single-handed, but room for a third person when day-sailing. The C-15 is known for being a stable day-sailor, and a confidence building racer. With a center board and kick-up rudder, this boat easily trailers or beaches. Includes EZ Load trailer and everything needed to sail!
1981 Catalina 25 - $10,000 -
Pop-top swing keel with a nice trailer. Refit over past two years. Lying Lakeside, MT
1983 J/29 - REDUCED PRICE! - $12,000 -
On a single axle yard trailer. Updated North Kevlar main and genoa, a Dacron #2 and jib and a 3/4 oz. spinnaker. Adjustable genoa leads. Barient 26 sheet winches and Barient 21 halyard winches. 8hp merc 2 stroke motor.
Recent Boat Sales Through Sail Montana:
1976 Pacific Seacraft 25
2014 Laser XD
1991 Laser II
3 - Vanguard V15's
2 - 2005 Vanguard Laser Race
2010 Portland Pudgy
2006 Alerion Express 28
2011 Sage 17
2000 Vanguard Race Sunfish
2005 J/24
1995 Johnson 18 Sport Boat
1973 Albin Vega
1985 Olson 25
1986 J/27
1985 Ericson 32
2003 Byte
1984 Catalina 25
2007 Hunter 216
2 - 2008 SB20 Sport boats
2001 Corsair F24 Tri
2015 J/88
2013 Viper 640
2015 Weta Tri
2013 J70